Our Granger orchard usually opens for picking early September through mid-October. The exact opening date varies from year to year and is posted on Facebook a few days prior. Our picking hours are Monday through Sunday from 9 AM to 5 PM weather permitting. Closures are possible due to weather or fruit availability so ALWAYS check our Facebook page or call us at 515-276-0852 before coming.  
The orchard is located at 13140 NW 102nd Avenue in Granger on the South side of Highway 141.  View Map
COVID-19 U-PICK MESSAGE AND POLICY
Being outdoors with plenty of fresh air and wide-open space allows us to SAFELY enjoy apple picking while social distancing.  Our 8-acre orchard makes it reasonably easy to keep a 6-foot spacing and still have a blast!
We ask you to take personal responsibility and follow the below guidelines in order to protect yourself and others:
– you cannot enter the farm if feeling sick or displaying any symptoms of Covid-19
– you must maintain a safe 6-foot social distance at all times
– we strongly urge you to wear a facial cover when checking in/out, using one for picking is your personal preference
– it is recommended by the Center for Disease Control to wash your hands with soap and water for at least 20 seconds before preparing/consuming any food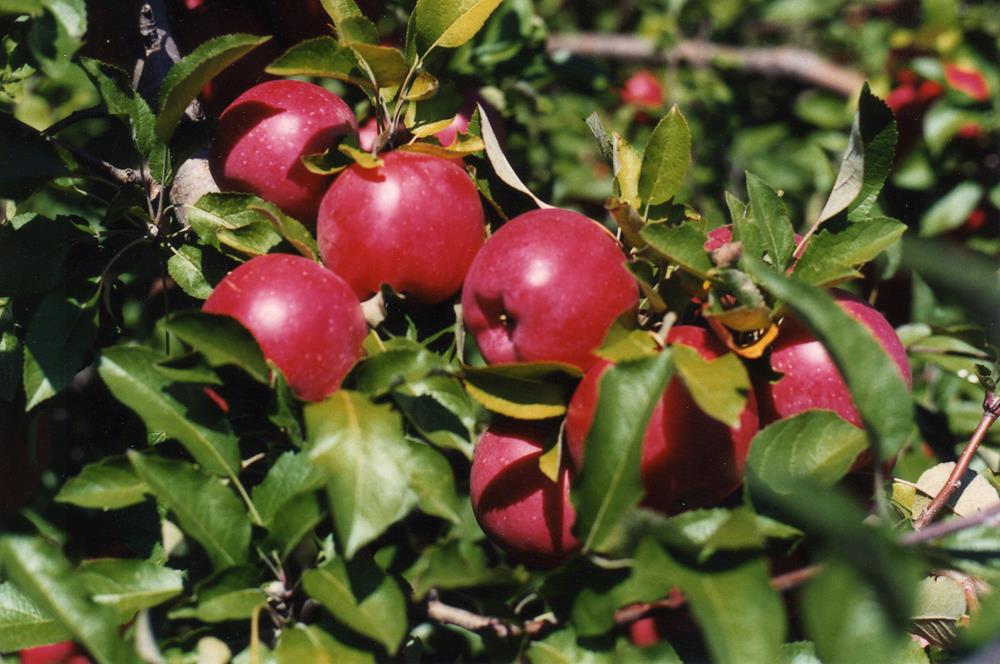 Approximate Apple Ripening Times:
1st week of September: Blondee, Gala, and McIntosh
2nd week of September: Honeycrisp and Jonathan
3d week of September: Cortland and Empire
Last week of September: Golden Delicious, Red Delicious, Jonagold, and Early Fuji
2nd week of October: Ida Red, Pink Lady, and Braeburn
APPLE PICKING GUIDE:
–  1/2 peck per 3 pickers ($3 for each additional person)
– 1 peck per 5 pickers ($3 for each additional person)
– 1/2 bushel per 7 pickers ($3 for each additional person).
With the above guide, if you are just looking to "window shop" and enjoy the orchard atmosphere, we can accommodate that for $3/ person (infants free). This allows you to enjoy  time with your family and friends, learn about growing apples and take those Instagram pictures:) If part of your family/group is wanting to pick and some want to just look, we can make that happen as well. You simply choose the size of bag to fill, and if you have more pickers per bag than our guide allows, it is $3 for each extra person. Sounds complicated? But this way we make sure to provide quality experience for two different crowds without making it unfair to either one. Also, we have an educated staff on site to explain it or you can contact us with any questions you might have.
REMEMBER, we are a functioning orchard and we love to grow apples for our customers to pick. But the end result you see now does not just happen – it takes about a year of attention and hard work ( pruning, mowing, staffing, tree training, fertilizing, irrigating, renting of bees etc). All of these tasks are done without knowing if you are actually going to get a crop, or Mother Nature decides to interrupt (hail, wind etc). Enjoy the apple picking at Iowa orchard!